Meet the artist:
Irene Lopez Leon

Spanish artist and muralist Irene Lopez Leon is the next addition to Artscape Warehouse, showcasing her surrealistic landscapes, exotic animal life and punchy colour palettes. Although new to the Warehouse, she has created murals together with Artscape before – 2019 in Ljusdal and now most recently for ARTSCAPE FORM. We caught up with Irene in her Barcelona studio in the midst of a second Corona lockdown to talk about birds, colours and the universe.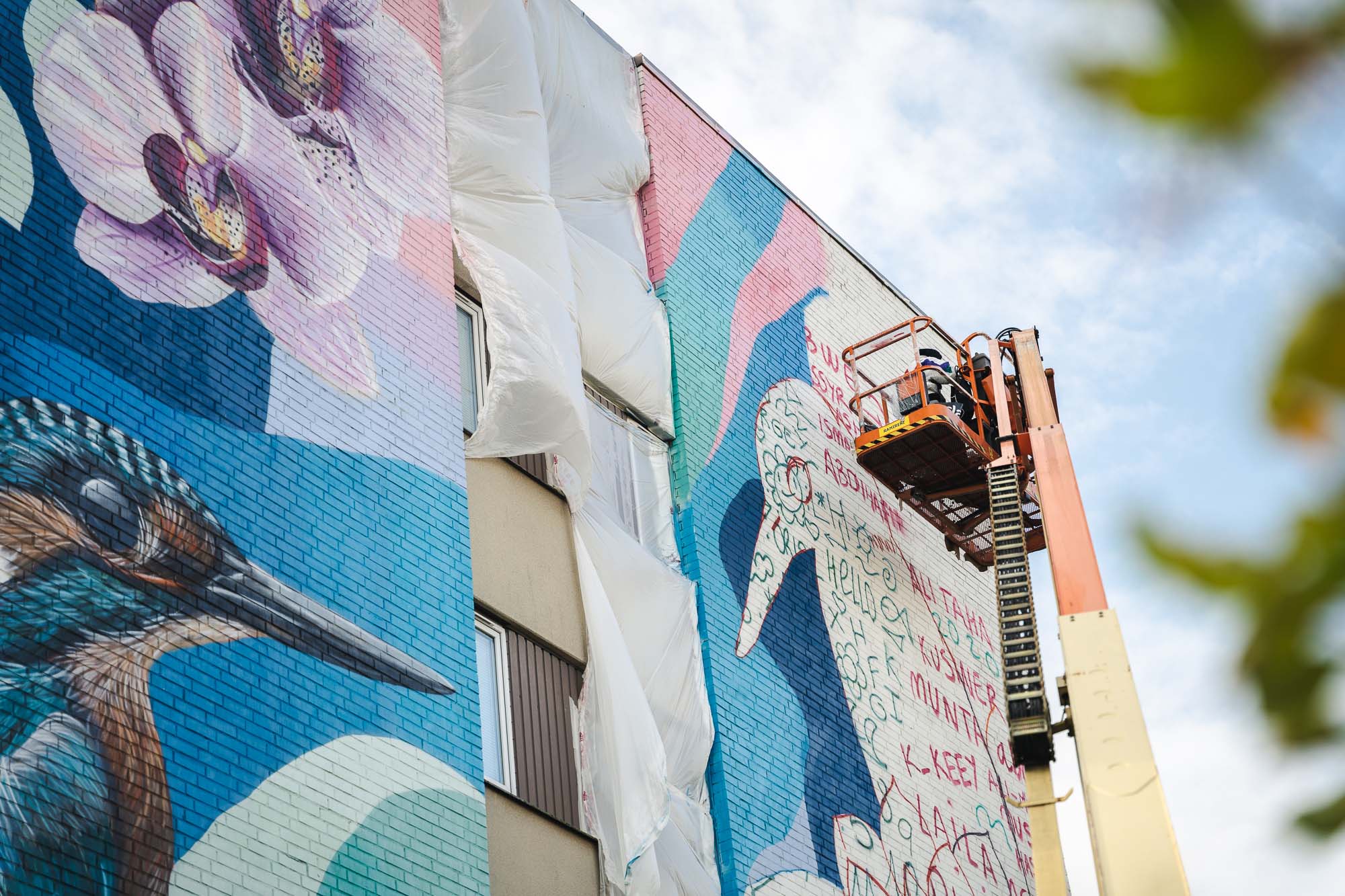 How was it to paint for Artscape again (at ARTSCAPE FORM in Linköping)?

It was a lovely experience and the largest wall I've ever painted on my own, so a personal record for sure. Like always the production and organisation of the festival was done perfectly and I would come back to do it again anytime. I immediately felt at home in the neighbourhood where I painted. It really reminded me about my own neighbourhood in Barcelona. All went fine except the last day when the wind was hitting the wall so hard that I had to get help from the team to reach the top!

Birds are a recurring theme in your work, what do they mean to you?

To be honest, I don't intend to send a certain message or express anything with painting birds. The truth is that I just happen to love them! I look up information about birds before I do a piece so it's relevant and the passers-by might recognize them. When doing research before arriving in Sweden I found out that there are actually kingfishers in that area. And since I painted kingfishers for the prints I thought of connecting the dots. A win-win! 
How did you find your own style, mixing flora and fauna with futurism?
When I was beginning to paint I had no idea how to paint figuratively. So I had to work with the tools that I got, which were painting geometric and abstract shapes. I started to love the colour palettes and compositions that came with it. But I am a person that always needs to learn new things so I slowly progressed into learning to paint more figurative pieces. So you could say that the art I produce right now is an expression of my own personal evolution as an artist. When it comes to choice of colour I try to find what combinations work together, how well they are perceived and if they can bring another dimension to the artwork.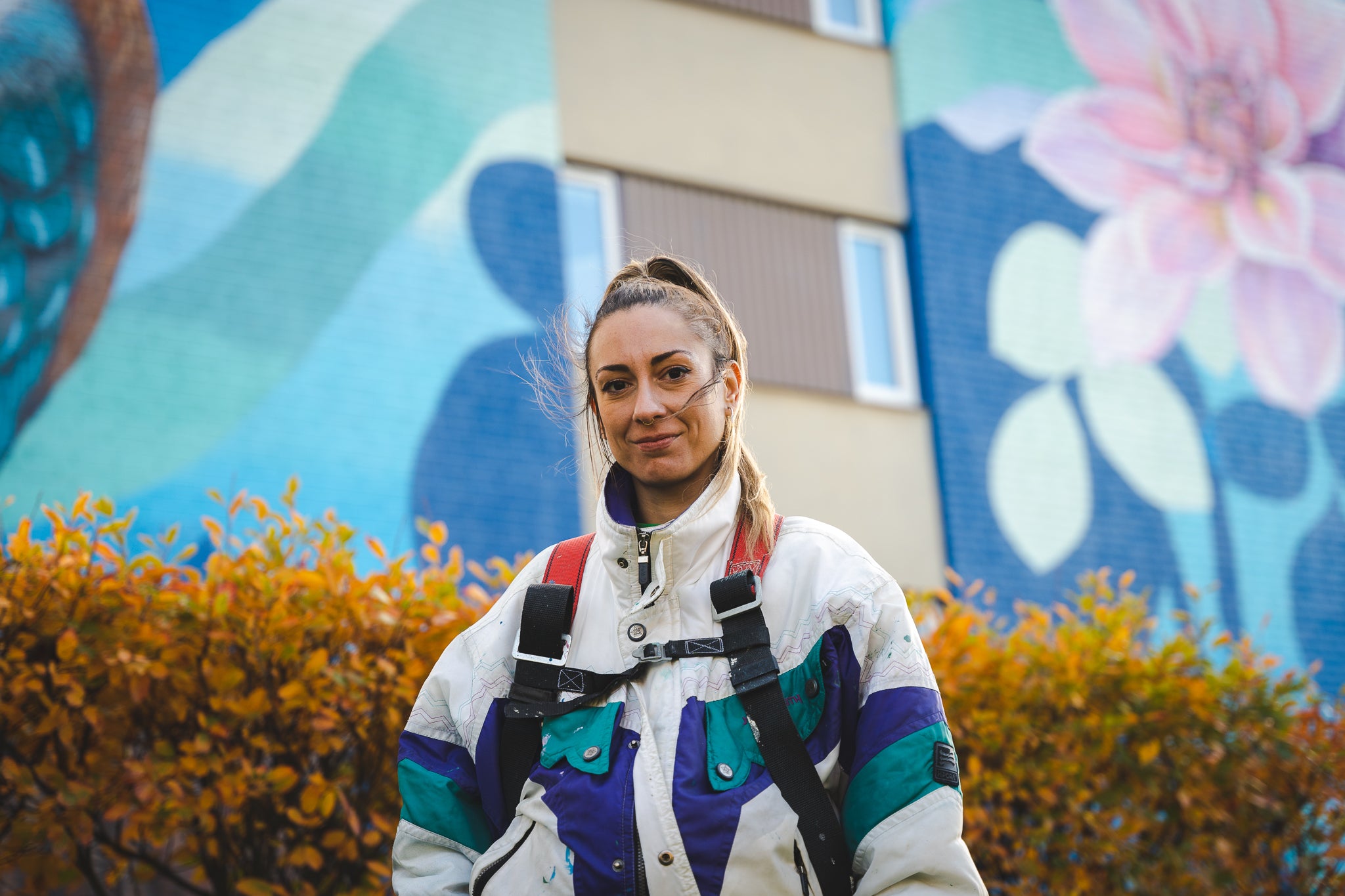 You've produced two different prints for Artscape Warehouse, Ara and Nashira. What can you tell us about them?

The titles are inspired from the universe. Ara is the name of a constellation of stars while Nashira is the biggest star in the Capricornus constellation. My background in painting landscapes and three dimensional is still with me and I like to blend in elements from the universe. These two prints are part of a larger series of universe and bird themed artwork that I'm creating right now.

What's the plan now?

Well, if it weren't for Covid-19 and all that comes with it I would surely be travelling and painting right now. Even though the quarantine has got me bouncing off the walls, spending so much time in my studio has pushed me into producing a lot of canvases and exploring new styles. But I do miss painting murals very much! 
Make sure to check out Irene's prints in the Warehouse shop here!